Ultra-Efficient, IQSmartTM Battery Protection Switch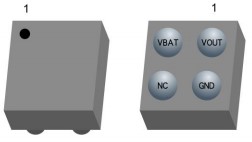 0.97mm x 0.97mm
0.55mm thick
0.5mm pitch
4 bump
WLCSP
VOC Over Charge Detection: 4.36 VBAT

Release Hysteresis, VOC_Hys = 130 mV
Detection Delay, tOC = 500 ms

VOD Over Discharge Detection: 2.88 VBAT
Load Short Circuit Protection with Delay Time to avoid a false trigger
Auto Retry after Short Circuit Off

tRS = 500ms, Try to turn on switch in tRS
Retry Times = 8 times

Latch-off at Short Circuit Protection. Power recycle to turn on switch again
1.5 A Continuous Charging Current Capability from VOUT to VBAT Pin
0.5 V Battery Minimum Voltage for Charging
VBAT > VOD Turns on Main Switch
Low RON : 36 mΩ Typ. @ 3.6 VBAT
Operation Current, IQ = 740 nA Typ @ 4.2 VBAT
Shutdown Current, ISD = 390 nA Typ @ VBAT < VOD
0.97 mm x 0.97 mm x 0.55 mm Chip Scale Package 4 Bumps, 0.5 mm Pitch
BLE Wireless Earphone
Wearables / IoT Devices
PART SCHEMATIC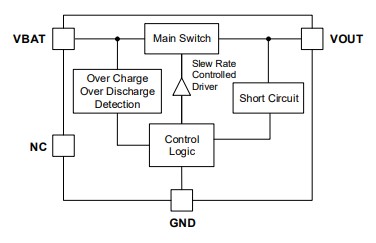 APPLICATION SCHEMATIC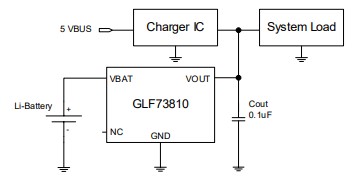 PRODUCT DESCRIPTION
The GLF73810 is an IQSmartTM ultra-efficient, full battery protection switch with an accurate over charge voltage, over discharge voltage, and short circuit protection for lithiumIon/Polymer battery safety.
The over charge and discharge voltage protections keep a rechargeable battery working within the desired safe operating condition. When the battery is charged past the over voltage detection level, the GLF73810 switch opens in a preset delay time. As the battery voltage decreases below the over discharge detection voltage level, the GLF73810 switch is turned off immediately to cut off the battery power rail, consuming an ultra-low leakage current (ISD) to save the battery.
In addition, when the load current reaches the ISC short circuit protection level, the GLF73810 switch is turned off and then retries to connect the discharge path 8 times periodically in the preset retry-time (PRT). If the short-circuit condition remains even after the 8 times, the GLF73810 latches off. The state can be reset by a power recycle.