Ultra-small form factor (0.77 x 0.77 mm) load switches achieve up to 50% lower RON (34 mΩ) than competitive devices; 7nA off-state leakage and 1 nA logic current optimize battery life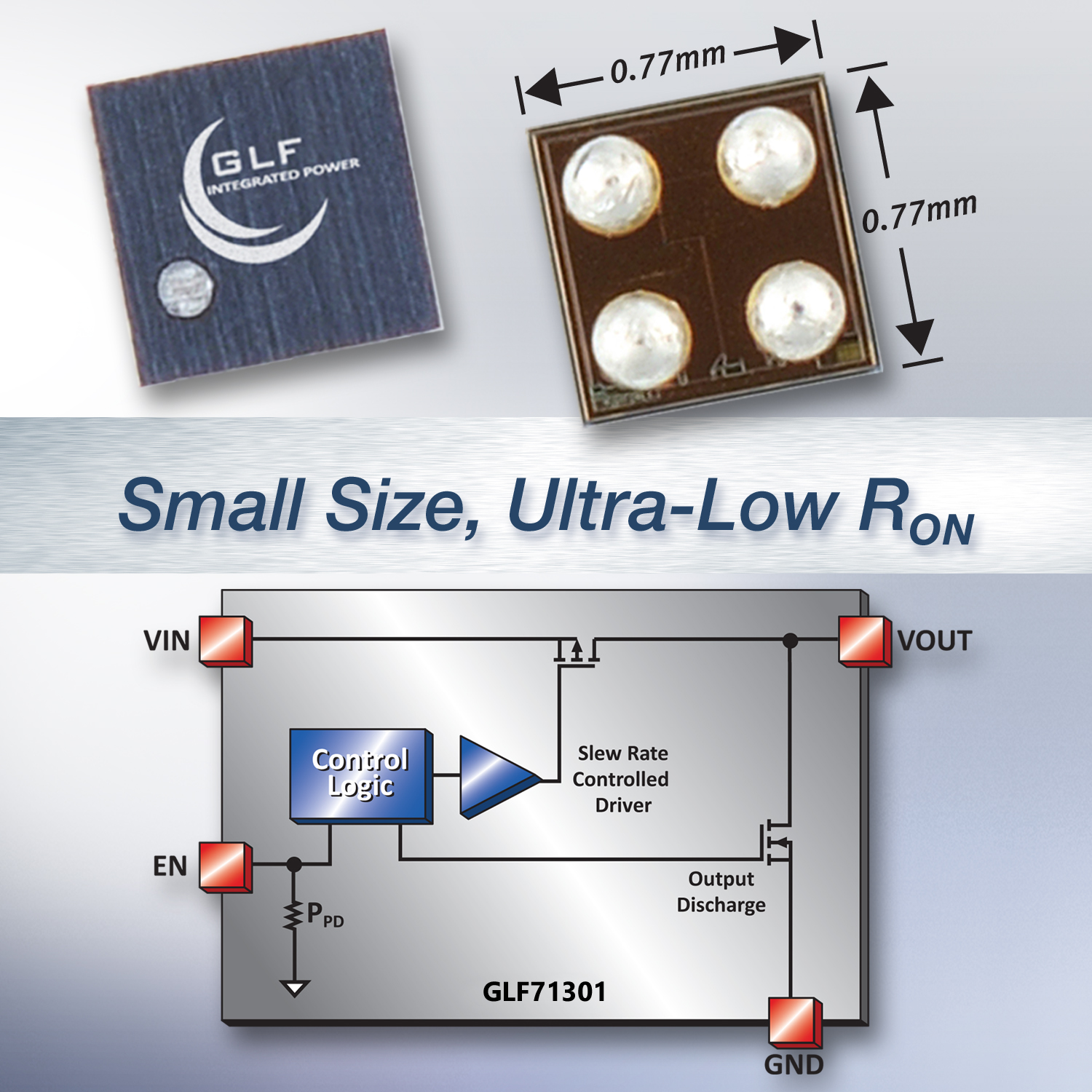 Santa Clara, CA.— May 4, 2016 — GLF Integrated Power, Inc., an emerging leader in efficient power switch technology, announces the GLF71301 load switchoffering breakthrough on-state resistance (RON: 34 mΩs, typ, at 5.5V) in an ultra-small (0.77mm x 0.77mm) form factor. As the latest addition to its IQSmart™ line of high-performance load switches, the GLF71301 maximizes system efficiency and optimizes battery life more effectively than its similarly-sized competitors. In addition to the lowest Ron, the GLF71301 also boastsbest-in-class off-state leakage current (ISD) of 7 nA, typ., at 3.6 VIN as well as low logic operating current (IQ) of less than 1 nA, typ. @ 3.6 V. Applications include those that require ever-smaller, more efficient load switches, such as wearables, data storage, SSD, mobile devices, low power systems and battery-powered systems.
Based on GLF's new and advanced technology, the GLF71301 exhibits unmatched RON performance in a load switch of its size. Although in a form factor almost 40% smaller than GLF's prior-generation GLF71311, it achieves space savings with minimal impact to on-resistance. Compared to competitive devices, the GLF71301 offers between 28%-53% lower RON. This extremely low on-resistance translates into higher operating efficiency and extended battery life.
The GLF71301 device's other best-in-class efficiency specs are off-state leakage and logic operation current. The GLF71301 load switch's 7nA off-state leakage is up to 20 times lower than competitive load switch devices. To increase efficiency, a load switch saves power by turning off power-hungry subsystems when not in use; so the lower the ISD, the less power is wasted in the off state. Additionally, the GLF71301 has a logic operating current, or IQ, of just 1 nA. This is over 70 times lower than its closest competitor and several hundred times lower than other devices. The GLF71301 load switch's ISD and IQ combine to better reduce power dissipation and battery drain than other fully integrated load switches.
"Our new GLF71301 load switch offers the best size-to- RON ratio available," said Eileen Ni Sun, president and founder of GLF. "Now our customers have a smaller-package option when creating innovative, space-constrained systems. This new device is 37% smaller than our previously released GLF71311, yet it still offers exceptionally low on-resistance. With this introduction, GLF continues to lead the industry in load switches with best-in-class efficiency performance."
About GLF Integrated Power
GLF Integrated Power, Inc. is a Silicon Valley, California, fabless semiconductor company. Founded in 2013, our goal is to help your wearables, mobile/portable devices, IOT products and SSD devices live longer and more efficient lives. We design breakthrough, ultra-efficient, ultra-small, silicon power control and protection ICs. We launched our first IQSmart™, ultra-efficient load switch device to lead customers in 2015 and achieved immediate design wins at major wearable, SSD, and portable device manufacturers. For more information, go to: www.glfipower.com.