Ultra-Efficient, IQ SmartTM Battery Protection IC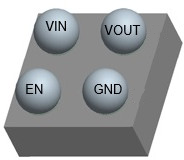 0.97mm x 0.97mm
0.55mm thick
0.5mm pitch
4 bump
WLCSP
Over Charge Detection Voltage, VOC

4.50 VBAT
Monitor VBAT to release VOC

Over Discharge Detection Voltage, VOD : 2.80VBAT
Load Short Circuit Protection with Delay Time to avoid a false trigger
Activated by Applying VON to the VOUT Pin from
Charger
1.5A Continuous Charging Current Capability from VOUT to VBAT Pin
Low RON : 36 mΩ Typ. @ 3.6 VBAT
Quiescent Current, IQ = 720 nA Typ @ 3.6 VBAT
Shutdown Current, ISD 70nA Typ @ VBAT < VOD
Latch-off at Over Discharge Detection and Short Circuit Protection. Apply VON to VOUT pin to turn on again
Near 0V Battery Charging

0.4V Minimum Battery Voltage for Charging

Patent Pending Circuit Architecture
HBM: 8 kV, CDM: 2 kV
BLE Wireless Earphone
Wearables / IoT Devices
PART SCHEMATIC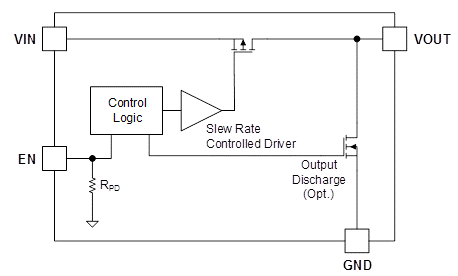 APPLICATION SCHEMATIC

PRODUCT DESCRIPTION
The GLF73910-BD01 is an IQSmartTM ultra-efficient, full battery protection switch with an accurate over charge voltage, over discharge voltage, and short circuit protection for lithium-Ion/Polymer battery safety.The GLF7131x features ultra-efficient IQSmartTM technology that supports the lowest quiescent current (IQ) and shutdown current (ISD) in the industry. Low IQ and ISD solutions help designers to reduce parasitic leakage current, improve system efficiency, and increase battery lifetime.
The over charge and discharge voltage protections keep a rechargeable battery working within the desired safe operating condition. When the battery is charged past the over voltage detection level, the GLF73910-BD01 switch opens in a preset delay time.GLF7131x Load Switch devices support an industry leading wide input voltage range and helps to improve operating life and system robustness. Furthermore, one device can be used in multiple voltage rail applications which helps to simplify inventory management and reduce operating cost.
As the battery voltage decreases below the over discharge detection voltage level, the GLF73910-BD01 switch is turned off immediately to cut off the battery power rail, consuming an ultra-low leakage current (ISD ) to save the battery. In addition, when the load current reaches the ISC short circuit protection level, the GLF73910-BD01 switch is turned off and will maintain the off state to avoid any serious damage to system. The short circuit delay time avoids any false trigger which might open the switch.
When a charged battery cell is connected, the GLF73910-BD01 remains in the off state and consumes an ultra-low leakage current (ISD) until the VON voltage is applied to VOUT pin. Note that the GLF73910-BD01 is activated only by a VON voltage from a charger output.