Ultra-low Quiescent Current Linear Voltage Regulator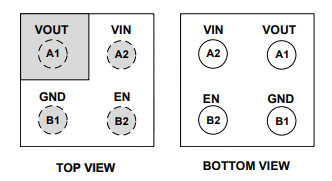 0.97mm x 0.97mm
0.55mm thick
0.5mm pitch
4 bump
WLCSP
Ultra-Low Quiescent Current, IQ:
Ultra-Low Shutdown Current, ISD

10 nA Max @ VOUT(NOM) + 1 V

Output Voltage Accuracy: ± 2.5 %
Low Dropout: 62 mV Typ at 150 mA
150 mA Guaranteed Output Current
Over Current Protection and Current Foldback
Compatible with Ceramic Capacitor
Operating Temperature Range: -40 to 85 °C
HBM: 6 kV, CDM: 2 kV
Ultra-Small: 0.97 mm x 0.97 mm WLCSP
Mobiles / Wearables /IoT Devices
Battery Powered Smart Devices
Medical Devices
FUNCTIONAL BLOCK SCHEMATIC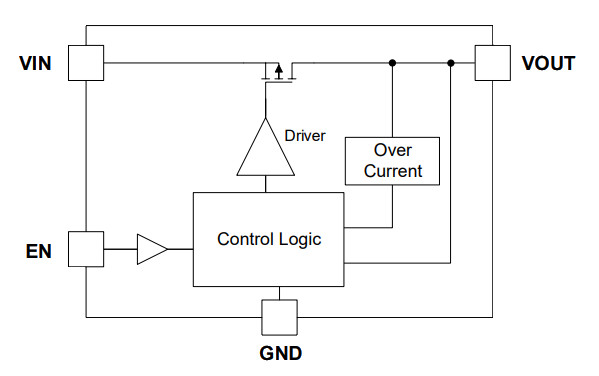 APPLICATION SCHEMATIC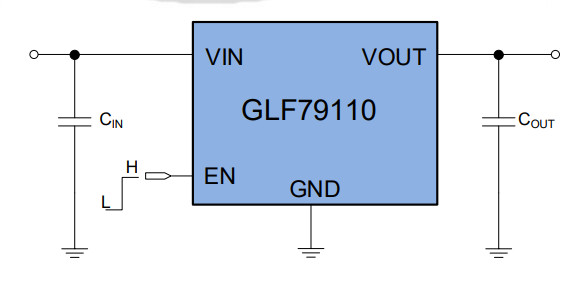 PRODUCT DESCRIPTION
The GLF79110 are a family of ultra-efficient IQSmartTM low dropout regulators designed for wearables and IoT devices which require ultra-low quiescent current.
The GLF79110 provides up to 150 mA output current with typical quiescent current of only 0.8 µA. In shutdown mode, the GLF79110 only draws a typical 4 nA from the supply. The typical dropout voltage is 62 mV or less in each output voltage rating.
The GLF79110 also provides short circuit current limiting of 250 mA and fast transient response from zero to maximum load. The combination of low power, protection features and small size make the GLF79110 ideal for portable and battery powered applications.
The GLF79110 is available in 0.97 mm x 0.97 mm x 0.55 mm wafer level chip scale package (WLCSP).