7 A VariRiseTM Programmable Slew Rate Controlled Switch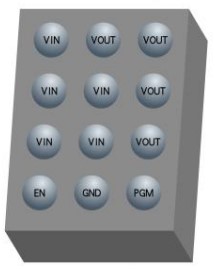 1.27mm x 1.67mm
0.55mm thick
0.4mm pitch
12 bump
WLCSP
Supply Voltage Range: 1.5 V to 5.5 V
Low RON: 10 mΩ Typ. at 5.5 VIN
VariRise TM Programmable VOUT RisingTime
7 A Continuous Output Current
Ultra-Low Quiescent Current

IQ: 10 nA Typ. at 5.5 VIN

Ultra-Low Stand-by Current

ISD: 55 nA Typ. at 5.5 VIN

Output Discharge Switch
Wide Operating Temperature Range:
- 40 °C to 105 °C
1.27 mm x 1.67 mm x 0.55 mm
Wafer Level Chip Scale Packaging (WLCSP)
Low Power Subsystems
Communication / Network System
Smart Mobile Devices
Storage Devices
FUNCTIONAL BLOCK SCHEMATIC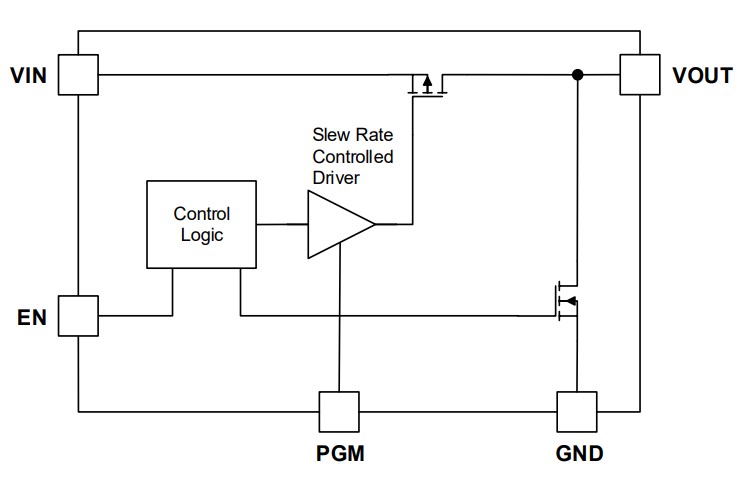 APPLICATION SCHEMATIC

The GLF71431 is an ultra-efficient, 7 A rated, integrated load switch with the VariRiseTM technology which provides the programmable slew rate of variable output voltage rising times.
The GLF71431 features the ultra-efficient IQSmartTM technology that supports some of the lowest RON, quiescent currents (IQ) and shutdown currents (ISD) in the industry. Low RON reduces conduction losses, while low IQ and ISD solutions help designers to reduce parasitic leakage currents, improve system efficiency, and increase battery lifetimes.
The PGM input pin allows the user to add an external resistor to set the slew rate of the switch output voltage to a specific value for a given output capacitance. It limits inrush currents during turn-on, helping to minimize voltage droop.
The GLF71431 offers best in class size and onresistance (RON) performance. It uses chip scale packaging which utilizes 12 bumps, in a 1.27 mm x 1.67 mm die size with 0.4 mm pitch.