Product Description
The GLF76121 / GLF76121L is an ultra-efficient IQSmartTM load switch with an integrated reset timer for wearables and IoT devices. The /SRO pin offers a true reset function enabling the load switch to completely disconnect the load from the input battery after a reasonably long delay time. After the reset period, the main switch of the GLF76121 / GLF76121L reconnects the output load to the input battery for normal operation. The GLF76121 offers 5.8 second delay time before the 360ms reset duration while the GLF76121L has 11.6 second delay time and then 700ms reset time.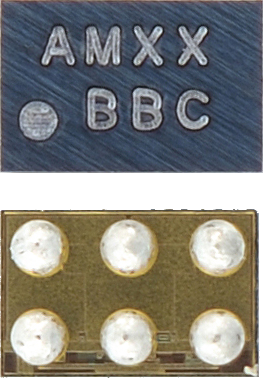 0.97mm x 1.47mm
0.55mm thick
0.5mm pitch
6 bump
WLCSP
Ultra-Low I

Q

: 3 nA Typ @ 3.6VBAT
Ultra-Low I

SD

: 7 nA Typ @ 3.6VBAT
Low R

ON

: 34mΩ Typ @ 3.6VIN
IOUT Max: 2A
Reset Delay Time: 5.8/11.6s
Reset Pulse Period: 360/700ms
Turn-off Delay Time: 5.8/11.6s
Wide Input Range: 1.1V to 5.5V
6V abs max
Controlled Rise Time: 1s @ 3.6VBAT
Integrated Output Discharge Switch
Smart Credit Cards
Thin Wearables
Thin Medical Portables
Thin Mobiles
Thin Battery Powered Systems
The ultra-low IQ enables the direct interface to lower voltage chipset without any external circuit and maintains lower power consumption. The OFF input pin allows the GLF76121 / GLF76121L to achieve complete shutdown with a total downstream standby current of 7nA typical. With the switch placed between a battery and system, this switch can help to significantly extend system battery life in mobile devices during shipping or periods of extended off time.
The GLF76121 / GLF76121L helps to reduce power consumption in with the best in class RON and a breakthrough on state IQ of only 3nA typical when the switch is on.
The GLF76121 / GLF76121L integrated 1ms slew rate control can also enhance system reliability by mitigating bus voltage swings during switching events. Where uncontrolled switching can generate high inrush currents that result in voltage droop and/or bus reset events, the GLF slew rate control specifically limits inrush currents during turn-on to minimize voltage droop. The output discharge functions make output voltage off quickly during the reset period.